Here are a few recommended stretches and exercises for relieving herniated disc symptoms. The vertebrae are the small bones that make up the spine. They have cushion discs between each one. These are the intervertebral discs and are the body's shock absorbers. The discs can be thought of as small balloons that are filled with an elastic gel-type material. There are twenty-three of these cushions.
Functioning as the body's shock absorbers transferring various forces, weight, and stress from vertebra to vertebra, so that no one is overburdened taking on all the impact the body goes through. But like any machine, the discs can wear down over time, and sustain injury. When this happens the cushioning gel can leak out and press on the nerve roots emerging from the spine. This type of injury is a herniated disc.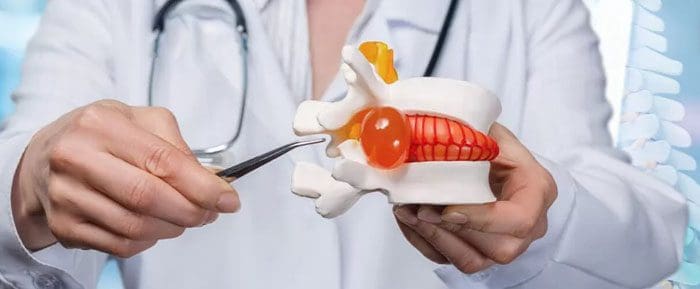 Herniated Disc Treatment
A herniated disc can lose its height because of fluid and water loss.
This loss affects the bone structures bringing them closer together affecting the ligaments that connect each segment. The ligaments become loose and do not provide the same stability. Ligaments cannot be strengthened with exercise making it more important to strengthen the muscles around the spine to make up for this stability loss. Depending on the severity of the injury, the displaced disc can cause pressure to build upon the nerves, resulting in pain and other discomforts. This comes from the loss of the disc's cushion causing the vertebrae to rub against each other. Stretches and exercises designed for herniated discs can work in conjunction with conservative treatment to relieve the pain and discomfort.
Stretches and Exercises for Pain Relief
Consult a medical spine specialist/chiropractor before beginning a stretch and exercise regimen. This is because the herniation can become worse or additional injury/s can occur without proper instruction. Once the injury and clinical considerations have been addressed, gentle stretches and exercises can help reduce the pain and other symptoms. Strengthening the back and hamstring muscles reduces pressure on the spinal column helping to prevent pain and promotes healing by:
Increasing blood flow to the spine
Building strength to support the spinal muscles
Decreases stress on the spine
Helps relieve the pain
Improves abnormal postures and awkward body positions
Equipment is not necessary but there are few items that can help the process.
Yoga mat for hard floors
A resistance band, a towel will work
Stable upright chair
Stopwatch/Timer a phone timer will work
Cervical/Neck Stretches and Exercises
A herniated disc in the neck is usually caused by a forward head posture and a swayback or excessive curvature of the spine.
Isometric hold
Sit straight
Relax the shoulders
Place one hand on the forehead
Push head into the hand without moving the head
Hold for 5 to 15 seconds.
Repeat 15 times
Chin tuck
Lie on your back on a flat surface
Place arms at sides
Tuck the chin in and down toward the chest until a stretch is felt
Hold for 5 to 10 seconds
Repeat 15 to 20 times
Lumbar/Low Back Stretches and Exercises
Back flexion stretch
This stretch extends the back muscles to relieve low back pain.
Lie flat on your back
Pull the knees toward the chest and wrap your arms around the knees
Lift head straight up off the floor until there is a stretch across the mid and low back
Hold for 10 seconds
Repeat 5 to 10 times
Piriformis stretch
This stretches the small muscle in the buttocks helping to relieve low back pain and helps with sciatica.
Lie flat on your back on the floor or yoga mat
Bend the knees
Plant feet on the floor
Pick up one leg and rest the ankle on the other leg's bent knee
Reach one arm through the leg and use both hands to grasp the bent leg
Pull the leg toward the chest until there is a stretch in the buttock
Hold for 30 seconds
Repeat on the other leg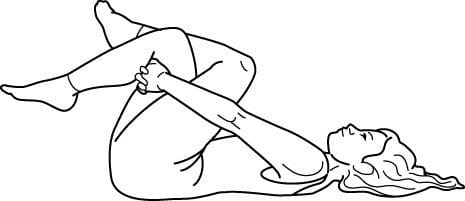 Prone extension stretch
This stretch helps reposition the disc back to its proper position, expediting the healing process. Start slowly and if pain presents, stop immediately.
Lie face down on the floor or yoga mat
Place the forearms on the floor next to the body
The elbows should be at a 45- degree angle
Slowly prop the body up, being sure to keep the hips on the floor
Keep pressing upward until the elbows are at a 90-degree angle
Hold the position for 10-15 seconds
Return to starting position
Repeat the stretch 10 times
Gradually increase the upward position hold time until it can be maintained for 30 seconds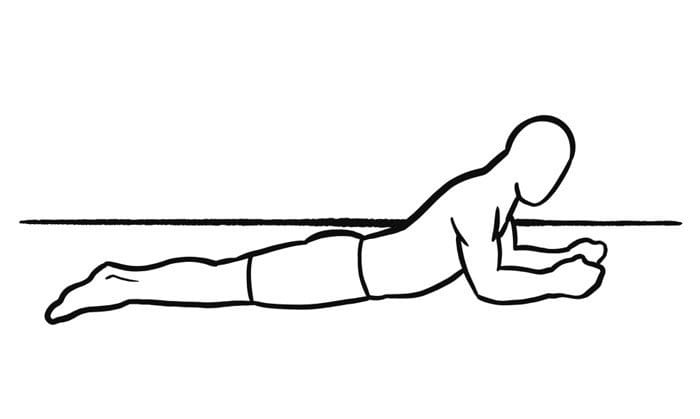 Performing these stretches and exercises or similar types will help with herniated injury recovery and prevent worsening or creating new injuries.
---
Body Composition
---
Benefits of yoga
Yoga benefits mental and physical health. Yoga helps improve individual physical health. Specific poses can help:
Improve balance
Flexibility
Build/Tone muscle
Prevent injury
Improve sense of well-being
Yoga stretches the muscles while relieving physical and emotional stress. Practicing yoga regularly can prevent obesity, and reduce the risk of developing metabolic syndrome. Yoga can help decrease leptin which is a hormone that helps control appetite. This is important for individuals going through chronic stress who are twice as likely to develop metabolic syndrome.
Disclaimer
The information herein is not intended to replace a one-on-one relationship with a qualified health care professional, licensed physician, and is not medical advice. We encourage you to make your own health care decisions based on your research and partnership with a qualified health care professional. Our information scope is limited to chiropractic, musculoskeletal, physical medicines, wellness, sensitive health issues, functional medicine articles, topics, and discussions. We provide and present clinical collaboration with specialists from a wide array of disciplines. Each specialist is governed by their professional scope of practice and their jurisdiction of licensure. We use functional health & wellness protocols to treat and support care for the musculoskeletal system's injuries or disorders. Our videos, posts, topics, subjects, and insights cover clinical matters, issues, and topics that relate to and support, directly or indirectly, our clinical scope of practice.* Our office has made a reasonable attempt to provide supportive citations and has identified the relevant research study or studies supporting our posts. We provide copies of supporting research studies available to regulatory boards and the public upon request. We understand that we cover matters that require an additional explanation of how it may assist in a particular care plan or treatment protocol; therefore, to further discuss the subject matter above, please feel free to ask Dr. Alex Jimenez or contact us at 915-850-0900.
Dr. Alex Jimenez DC, MSACP, CCST, IFMCP*, CIFM*, CTG*
email: coach@elpasofunctionalmedicine.com
phone: 915-850-0900
Licensed in Texas & New Mexico
References
Court C, Mansour E, Bouthors C. Thoracic disc herniation: Surgical treatment, Orthopaedics & Traumatology: Surgery & Research, 104(1)S31-@40, 2018, https://www.sciencedirect.com/science/article/pii/S1877056817303419.