Tennis is an intense sport that requires strength, agility, flexibility, stamina, endurance, and conditioning. And it's a great way to stay in shape. However, with all of this intensity is the risk of injuries. Although they are lower compared to other sports injuries, injuries are more cumulative/repetitive based and wear and tear over time type. Tennis injuries can be painful and impair daily life. They can be treated and prevented with chiropractic medicine and strength training. Chiropractic can help the body heal quicker, and address underlying issues that led to the injury. This will help to worsen and prevent re-injury. The most common tennis injuries include...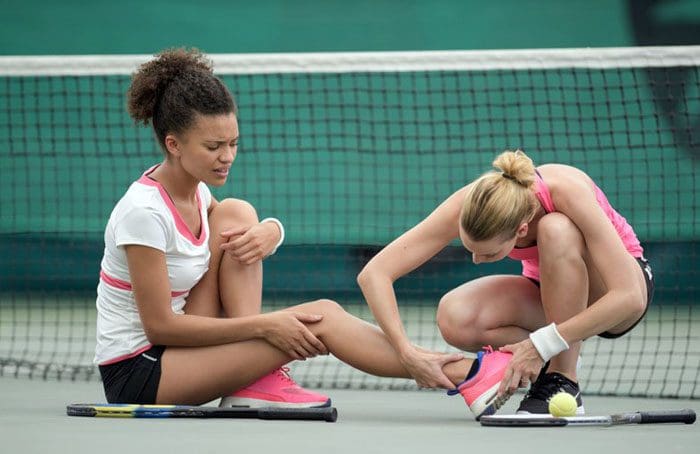 Wrist Tendonitis
This is an injury that can happen to beginner players that don't have a great deal of arm/wrist strength, use a racquet that is too heavy, and begin developing an improper form to compensate. But it can also be caused by repetitive/overusing the wrist instead of the whole arm. Symptoms are chronic stiffness and pain in the area surrounding the wrist joint. Chiropractic sports massage, physical rehabilitation, and learning proper form will help alleviate the pain and prevent worsening or developing new injuries.
Tennis Elbow
Tennis elbow is a condition that is caused by inflammation of the outside muscles in the forearm and tendons. This is usually an overuse injury from all the swinging and hitting, but using the improper technique could also be a cause. Chiropractic adjustments are highly recommended instead of steroid injections and other anti-inflammatories. The adjustments and massage relieve the discomfort and pain by naturally relaxing, stretching, and strengthening the muscles and tendons.
Shoulder Rotator Cuff Tendonitis
The rotator cuff belongs to a group of tendons and muscles that surround the shoulder joint. This allows the shoulder to perform 360-degree arm circles and is what stabilizes the shoulders. Tendonitis happens when the tendons inside the rotator cuff become inflamed. The inflammation causes pain with movement, especially overhead motions decreasing the range of motion in the shoulder. This injury is often caused by serving and hitting overheads with an improper technique. Chiropractic adjusting, heat and ice therapy, and electro-muscular stimulation loosen and stretch the muscles/tendons back to their proper form.
Knee Sprains and Strains
The knee goes through a lot in sports. And tennis is no exception, much like basketball and volleyball with all the jumping, pounding, shifting, twisting, losing balance, or extending beyond the normal range of motion causes injuries that result in:
Pain
Swelling
Bruising
Loss of the ability to move ​
Chiropractic will help relieve that pain and relax the damaged muscles. It also speeds the healing process by addressing the underlying issues.
Ankle Sprain
An ankle sprain also known as a twisted ankle happens when the ligaments attached to the joint become over-stretched or partially tear. These sprains happen from the:
Quick start and stop movements
Changing direction rapidly
Quick sprints all around the court
Causing the ankle to roll and/or twist.
A chiropractor will realign the ankle and provide physical therapy massage to allow the ligaments to heal properly and faster. Chiropractic treatment will allow the player to return to play quicker and prevent reinjury that if not treated correctly can become chronic. Having the proper personalized treatment plan will ensure the body heals correctly, prevent misalignments, loss of functionality, and/or range of motion.
---
PUSH Fitness
---
Aerobic Training
Aerobic exercise is a cornerstone for weight loss. Having the heart rate elevated for a continuous amount of time is the key. This is how calories are burned. Research has found that individuals involved in aerobic training lose more weight overall, including more fat mass than resistance training alone. When combined, aerobic and resistance training individuals gain more fat-free mass, including lean muscle. Aerobics causes the cardiorespiratory system to adapt. Maintaining heart function and health and keeps the body's energy metabolism system running at optimal levels. Aerobic exercise for fitness and weight loss is a key element of maintaining the body's health.
Disclaimer
The information herein is not intended to replace a one-on-one relationship with a qualified health care professional, licensed physician, and is not medical advice. We encourage you to make your own health care decisions based on your research and partnership with a qualified health care professional. Our information scope is limited to chiropractic, musculoskeletal, physical medicines, wellness, sensitive health issues, functional medicine articles, topics, and discussions. We provide and present clinical collaboration with specialists from a wide array of disciplines. Each specialist is governed by their professional scope of practice and their jurisdiction of licensure. We use functional health & wellness protocols to treat and support care for the musculoskeletal system's injuries or disorders. Our videos, posts, topics, subjects, and insights cover clinical matters, issues, and topics that relate to and support, directly or indirectly, our clinical scope of practice.* Our office has made a reasonable attempt to provide supportive citations and has identified the relevant research study or studies supporting our posts. We provide copies of supporting research studies available to regulatory boards and the public upon request. We understand that we cover matters that require an additional explanation of how it may assist in a particular care plan or treatment protocol; therefore, to further discuss the subject matter above, please feel free to ask Dr. Alex Jimenez or contact us at 915-850-0900.
Dr. Alex Jimenez DC, MSACP, CCST, IFMCP*, CIFM*, CTG*
email: coach@elpasofunctionalmedicine.com
phone: 915-850-0900
Licensed in Texas & New Mexico
References
Dines, Joshua S et al. "Tennis injuries: epidemiology, pathophysiology, and treatment." The Journal of the American Academy of Orthopaedic Surgeons vol. 23,3 (2015): 181-9. doi:10.5435/JAAOS-D-13-00148
Minghelli, Beatriz, and Jéssica Cadete. "Epidemiology of musculoskeletal injuries in tennis players: risk factors." The Journal of sports medicine and physical fitness vol. 59,12 (2019): 2045-2052. doi:10.23736/S0022-4707.19.09842-6
Stuelcken, Max et al. "Wrist Injuries in Tennis Players: A Narrative Review." Sports medicine (Auckland, N.Z.) vol. 47,5 (2017): 857-868. doi:10.1007/s40279-016-0630-x
Willis, Leslie H et al. "Effects of aerobic and/or resistance training on body mass and fat mass in overweight or obese adults." Journal of applied physiology (Bethesda, Md.: 1985) vol. 113,12 (2012): 1831-7. doi:10.1152/japplphysiol.01370.2011