Traditional medical treatment for sciatica can sometimes be not as effective or ineffective for individuals, but nerve flossing is an option that could help. Flossing is not something individuals expect to hear from a medical professional treating their sciatica. However, when sciatica does not respond to common treatment methods like light physical activity or medications, a physician, chiropractor, or physical therapist might suggest combining traditional treatment with nerve flossing to alleviate sciatic nerve pain.
Nerve Flossing
The nerves can get jammed/stuck between the tissues and are not able to move, flex as they should. Nerve flossing involves performing gentle exercises to mobilize and stretch the nerves that help reduce irritation, inflammation, and improve mobility, especially in the hips. Nerve flossing is also known as:
Nerve gliding
Nerve mobilization
The exercises can be done at home with no equipment and simple instructions. When used in combination with other treatments, like chiropractic and physical therapy the effectiveness is increased. Consult with a doctor or doctor of chiropractic for an accurate diagnosis, because what is causing sciatica helps significantly to determine the best treatment plan.
Guidelines
These are simple exercises but they are still exercises that require following safety guidelines to prevent injury or pain. These include:
The body will need time to adjust to new exercises so individuals should start slow
Only a few repetitions should be done at a time
Gradually increase
Stop if pain presents with any of the exercises and report the pain to a doctor or chiropractic physical therapist to see if there is a problem with how the exercises are being performed or if the exercises should be done later on after further treatment.
Focus on staying relaxed, as tensing up the muscles decreases the effectiveness
Breathing properly is key. Individuals unknowingly stop breathing when doing exercises, which is not healthy. Breathe deep in and out.
Nerve Exercises
True nerve flossing is an active movement with motion otherwise, it is just stretching.
Mobilizing floss
Lie on the floor with both knees bent, feet flat on the floor, and with space at hip-width
A flat pillow can be used for the head if it makes it more comfortable
Tuck the chin in and be sure to keep the upper body relaxed throughout the exercise
Pull the right leg in towards the chest
Keep holding behind the right knee
Slowly straighten the leg until there is a comfortable stretch
Slowly return the knee to the starting position
Breathe deeply, slowly, and try not to press the lower back into the floor
Lower the leg back towards the chest then lower it back to the starting position
Perform with the left leg
Complete five repetitions on each side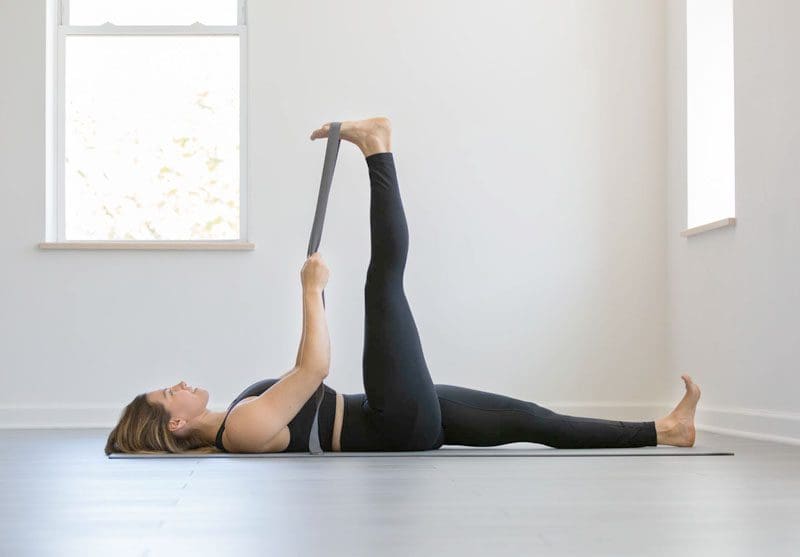 Seated nerve floss
Sitting upright in a chair, knees spaced hip-width, feet flat on the floor, and face forward
Extend the left leg
Flex the foot toward the body
Extend the head up and back looking up at the ceiling
Gently lower head and leg down, tucking the chin into the chest while bending the leg slightly backward
Extend and lower head at the same time when extending and lowering the leg
Perform 10 repetitions
Switch legs and repeat the exercise
Perform exercise 2–3 times every day
Hamstring floss
Stand up straight, raise the right leg onto a step or other stable surface while keeping the leg straight and toes pointed up
Keeping the back straight, tilt the head and neck forward until there is a slight pull/stretch in the back
Point the toe and bring the chin to the chest
Flex the foot and return
Repeat five times
Return to starting position
Switch legs
Repeat three sets on each leg
Exercise for Piriformis Syndrome
The piriformis muscle joins the base of the spine to the upper leg. Because this muscle is so close to the sciatic nerve, any type of irritation or compression of the sciatic nerve can also cause piriformis syndrome. Piriformis syndrome can cause radiating pain to the:
Hips
Buttocks
Hamstrings
Pain when sitting down or walking upstairs
Nerve flossing can also help relieve the symptoms increasing flexibility and range of motion.
Mobilizing stretch
Lie flat on the floor on the back
Extend both legs
Bend the right leg and bring it up
Hold the right knee and foot
While holding, gently pull the leg across the right side of the body and up toward the right shoulder
Return to the original position
Repeat five times
Gently lower the right leg
Switch legs
Complete five repetitions on each side two to three times a day
Risks
These exercises are not about pushing the body to its limits or in a way that causes pain. They are designed to rehabilitate, stretch, and strengthen the sciatic nerve making risks for further injury minimal. If there are still concerns about the safety of nerve flossing exercises, check with a doctor, doctor of chiropractic, or physical therapist. If there is severe nerve damage or undiagnosed acute pain, nerve flossing could worsen symptoms. Nerve flossing for acute cases of nerve irritation is not recommended as this can cause nerve root aggravation with the stretching/pulling.
Flossing for Sciatica
More research is needed on how nerve flossing can best help sciatica. It is an easy, natural, medication-free treatment that can help soothe irritated and compressed nerves, improve mobility, and flexibility.
Body Composition
Tracing sources of fatigue
There is a difference between being tired after a long day working, playing, etc, and being tired on a regular daily basis. This can be referred to as Chronic Fatigue Syndrome, a clinical condition where fatigue lasts longer than 6 months. With acute, non-clinical fatigue, it is typical to experience many of the symptoms that hamper an individual's ability to function. Symptoms can include:
Slow reaction time
Reduced appetite
Moodiness
Memory Loss
Dizziness
With hectic schedules, sources of fatigue begin to pile up along with unhealthy diet choices that stem from:
No time for a well-balanced breakfast
No time, or forgetting to make a healthy lunch equals
Unhealthy snacks
Disclaimer
The information herein is not intended to replace a one-on-one relationship with a qualified health care professional, licensed physician, and is not medical advice. We encourage you to make your own health care decisions based on your research and partnership with a qualified health care professional. Our information scope is limited to chiropractic, musculoskeletal, physical medicines, wellness, sensitive health issues, functional medicine articles, topics, and discussions. We provide and present clinical collaboration with specialists from a wide array of disciplines. Each specialist is governed by their professional scope of practice and their jurisdiction of licensure. We use functional health & wellness protocols to treat and support care for the musculoskeletal system's injuries or disorders. Our videos, posts, topics, subjects, and insights cover clinical matters, issues, and topics that relate to and support, directly or indirectly, our clinical scope of practice.* Our office has made a reasonable attempt to provide supportive citations and has identified the relevant research study or studies supporting our posts. We provide copies of supporting research studies available to regulatory boards and the public upon request. We understand that we cover matters that require an additional explanation of how it may assist in a particular care plan or treatment protocol; therefore, to further discuss the subject matter above, please feel free to ask Dr. Alex Jimenez or contact us at 915-850-0900.
Dr. Alex Jimenez DC, MSACP, CCST, IFMCP, CIFM, CTG*
email: coach@elpasofunctionalmedicine.com
phone: 915-850-0900
Licensed in Texas & New Mexico
References
Anikwe EE, Tella BA, Aiyegbusi AI, Chukwu SC: Influence of Nerve Flossing Technique on acute sciatica and hip range of motion, International Journal of Medicine and Biomedical Research, 4(2) May-August 2015, www.ijmbr.com
Jeong UC, Kim CY, Park YH, Hwang-Bo G, Nam CW. The effects of self-mobilization techniques for the sciatic nerves on physical functions and health of low back pain patients with lower limb radiating pain. J Phys Ther Sci. 2016;28(1):46-50. doi:10.1589/jpts.28.46