Accident/Collisions
are seeing a rise and along with those crashes are spinal injuries. What you need to know about:
Accident-related injuries
Treatment
Recovery
Legal issues
We take a risk, however small, every time we get in the car/truck, of being involved in a car wreck that results in injuries and specifically a spinal injury/s. The
National Spinal Cord Injury Statistical Center
has seen that
motor vehicle accidents/collisions
with the majority being car/truck accidents.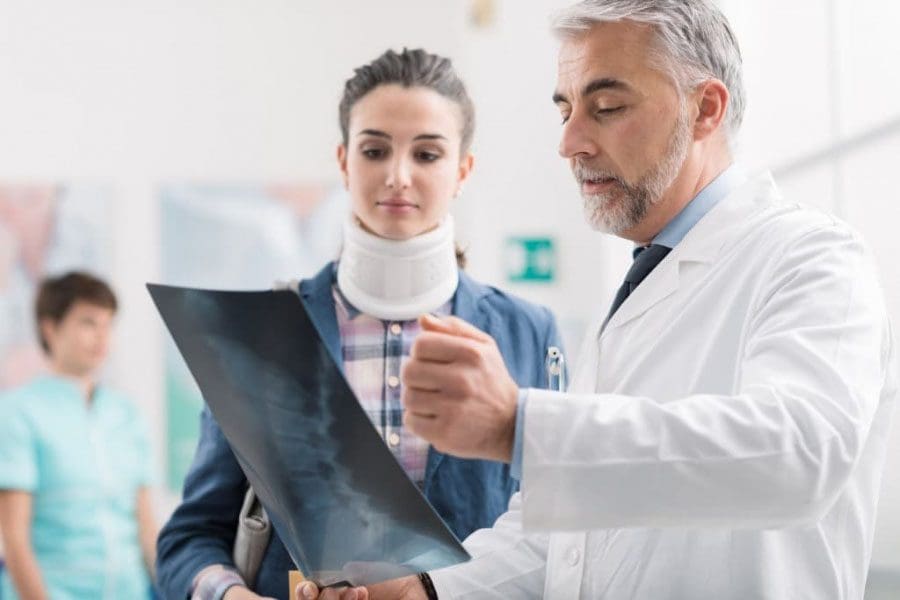 However, with all the construction taking place nowadays,
excavators
,
bulldozers, steamrollers, forklifts, and other vehicles
are also seeing a rise in accidents. This is also generating a rise in spinal cord injury/s.
Auto accidents are now ranked as the number one cause of spinal injury
. The risk of an accident is small and the risk of a resulting serious spine injury is smaller still, it's not anything. What you need to know about a motor vehicle accident/collision includes:
Injuries
Treatment
Recovery
Insurance
Legal issues
Common Motor Vehicle Accidents/Collisions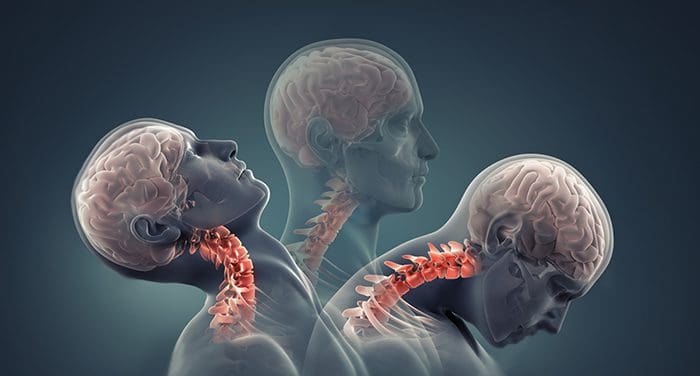 Whiplash
Whiplash is one of the most typical injuries following an accident, especially when
rear-ended or a rear-end collision
. Its a
neck injury
that happens when the
neck snaps suddenly back and forth
causing trauma to the tissues in the neck.
Symptoms often develop a few days
after the accident including:
Limited neck movement
Stiffness and pain in the neck
Pain or tenderness in the upper back, shoulders, and arms
Numbness or tingling in the arms
Dizzyness
Headaches starting at the base of the skull
Problems with concentration or memory
Ringing in the ears
Sleep issues
Depression
Herniated Disc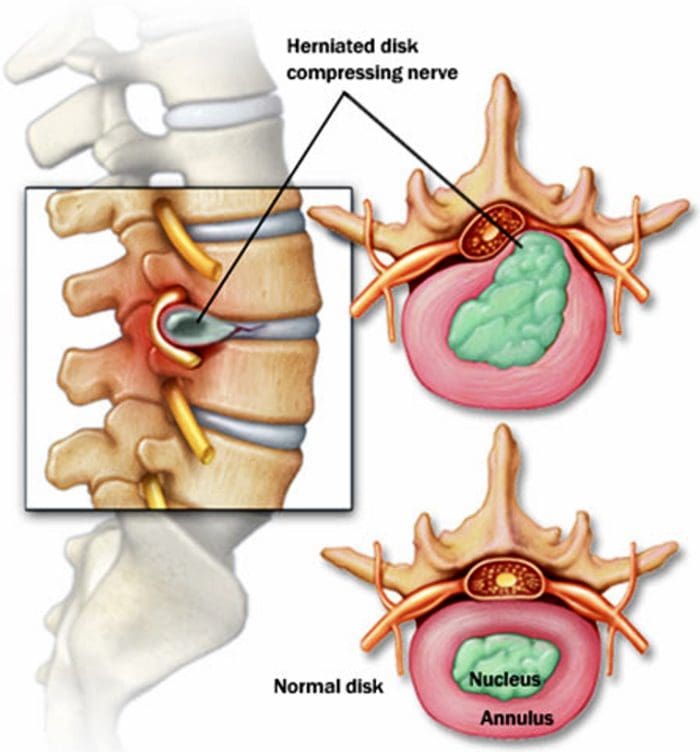 The discs in the spine cushion the vertebrae by
absorbing the weight, force, and overall impact
of a regular day. They are made of a soft, gel-like substance in the center that
behaves like the gel in foot orthotics, shoes, mattresses, etc
made to feel soft and comfortable. It has a tough outer membrane.
A
herniated disc
happens when that soft gel springs a leak/s out from a tear, meaning the shock-absorbing cushion has been compromised and is not delivering the absorption it's supposed to and places added pressure on the surrounding nerve/s and roots. Herniations can happen
naturally from age
and from
jobs that involve consistent and constant repetitive
:
Pushing
Pulling
Bending
Twisting
Herniations also
happen after going through some type of physical trauma
like a motor vehicle accident/collision.
Symptoms depend on where the herniation occurs
and include:
Muscle weakness around the affected nerve/s
Sharp shooting pain that can spread out from the shoulders to the arms, legs and low back
Tingling in arms or legs
Numbness
There could also be no symptoms and no discovery of a herniated disc until tested for something else.
Vertebral Fractures
The vertebrae are highly susceptible to
fractures of all types
and can appear at any spot along the spine. For many, the injuries are mild and heal with non-surgical treatment and time. Major trauma to the spine can cause severe injuries/conditions which include:
Burst fractures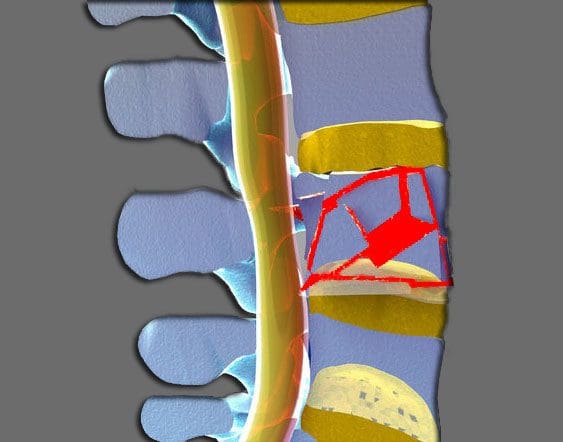 This is where the vertebra fractures in multiple places into bony fragments that fall into the spinal cord getting lodged inside with the jagged edges of the bones creating tears, cuts, etc that can result in
paralysis and even death.
Flexion fracture
This is an injury seen in
head-on collisions
where the upper part of the body gets thrown forward and the bottom part stays in place likely from the seatbelt. This tears the vertebra apart resulting in a
flexion teardrop fracture.
Vertebral compression
These types
cause the front of the vertebra to collapse
while the back keeps its position that forms a wedge-like shape. However, more often it is associated with
osteoporosis
, healthy individuals can experience a vertebral compression fracture from a serious traumatic event like an auto accident. Fractures can cause mild to severe pain that is exacerbated with movement. If the spinal cord is injured the individual could experience:
Tingling
Numbness
Weakness in the limbs
Loss of bladder/bowel function
Because of the
increased safety features
in today's vehicles,
fractures of the spine are rare except for
severe motor vehicle accidents/collisions.
Diagnosis and treatment
A doctor will review medical history along with the accident information. Imaging tests will follow like:
X-ray
CT or computed tomography scan
MRI or magnetic resonance imaging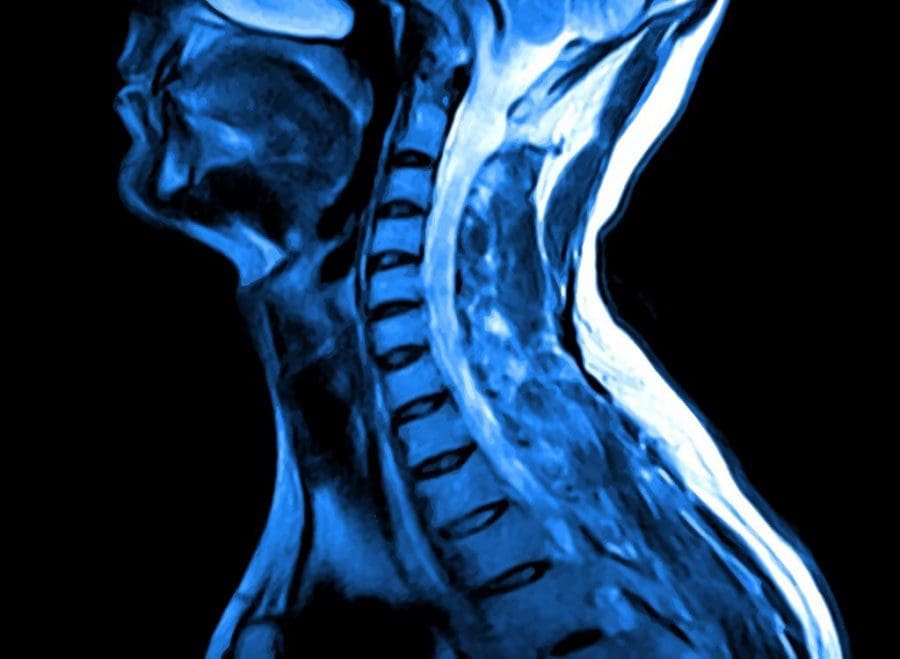 The way these techniques of imaging are done depends on the accident and the state of the spine. Being brought into the hospital from a motor vehicle accident/collision with a suspected spinal injury means the imaging will be done first to rule out or not potentially life-threatening injury/s to the spine.
Treatment for spinal injuries can range from:
Soft collar
Chiropractic
Over-the-counter anti-inflammatory medications
Corticosteroid injection/s
Nerve blocks
Physical therapy
Surgery to correct certain injuries when all other forms of treatment are not working
Recovery
Every
case, accident, and injury is different
and depends on several factors, like
age, health, and how severe the accident/collision
was. Severe and extreme injures like a burst fracture can take a long time to heal.
Legal Issues
Individuals with a spinal injury can face thousands in medical bills. If there is
medical equipment involved
along with
therapeutic services
for long-term care, like physical therapy then bills will accumulate.
Also, a personal injury claim could be necessary to pay for everything, especially, if the accident/collision is no fault of your own. Compensation could help with:
Loss of employment
Employment benefits
Wages lost
Ability to work/earn income
Medical expenses
Pain
Suffering
Consult with a specialist when considering filing a personal injury claim
Work Compensation
If a spinal injury accident happens at work there could be worker's compensation. Workers' compensation is insurance that replaces wages and medical benefits to workers that have been injured while doing their job. These are injuries that happened during the
operation of a motor vehicle, like a truck, or forklift.
The worker must file an injury report immediately so there is documentation supporting the injury claim. Waiting to file can make the employer question if there even was an injury. A workers' compensation claim works differently than a personal injury claim, based primarily on what is covered under the job's insurance policies.
An example is the legal term
pain and suffering
. This is not covered by workers' compensation. However, a
work training accident
would be covered by work comp in the event that the individual cannot return to their job/occupation after the injury. However, any injury/s after a motor vehicle accident/collision should never be taken lightly or ignored. Individuals must be proactive in their treatment after an accident/collision. This is to
prevent and avoid further injury.
---
Auto Accident Doctors & Chiropractor Treatments
---
Dr. Alex Jimenez's Blog Post Disclaimer
The scope of our information is limited to chiropractic, musculoskeletal, physical medicines, wellness, and sensitive health issues and/or functional medicine articles, topics, and discussions. We use functional health & wellness protocols to treat and support care for injuries or disorders of the musculoskeletal system. Our posts, topics, subjects, and insights cover clinical matters, issues, and topics that relate and support directly or indirectly our clinical scope of practice.*
Our office has made a reasonable attempt to provide supportive citations and has identified the relevant research study or studies supporting our posts. We also make copies of supporting research studies available to the board and or the public upon request. We understand that we cover matters that require an additional explanation as to how it may assist in a particular care plan or treatment protocol; therefore, to further discuss the subject matter above, please feel free to ask Dr. Alex Jimenez or contact us at 915-850-0900. The provider(s) Licensed in Texas& New Mexico*