Creating a healthy, safe ergonomic work environment is important to protect your back, neck and whole body
. Just by taking simple breaks and enhancing your workspace with a
sit-stand desk
will protect your spine and general health.
Break Taking
Working in the same position and using the same muscles, joints, and ligaments
for hours is not good for any part of your body.
Ergonomists
are
lifestyle
scientists that design spaces/equipment/tools to reduce discomfort, fatigue, and injury,
agree that taking frequent and brief rest breaks is essential for total and optimal body health. And, it's not just your legs that need a break every now and then.
At work, start practicing:
Eye breaks:
Looking at the computer screen for a long time changes how the eyes work
. What happens is you blink less and expose the eyes to the air. Therefore, every
15 minutes look away from the screen for a minute or two to a distant area that is at least 20 feet away or further
. This allows the muscles in the eye to relax. Also,
blink your eyes real quick for a few seconds. This refreshes the tear ducts and clears dust from the surface of the eyes.
Micro-breaks:
These are breaks that are less than two minutes and perfect to utilize between office jobs. Most people work in bursts rather than continuously. So
in between
these
bursts take a rest in a:
Relaxed
Flat
Straight posture
These breaks are
short but perfect for stretching, standing up, and moving around, or switching to a different task like making a phone call or making some copies, etc
. These types of breaks are a break from using the same set of muscles over and over.
Rest breaks:
These you want to do
every 30 to 60 minutes
. This is the break to,
get up, move around, and do something else non-office related
.
Go get a beverage, quick conversation with a coworker, or take a walk around the office or building.
As long it's within reason. This
allows your body and mind to empty and workout different muscles.
Practice this and the feeling of tiredness will be a thing of the past.
Exercise breaks:
This is purely a stretching and gentle exercise break to do to relieve muscle fatigue. These should be done every one to two hours.
Ergonomic software:
It is easy to lose track of how long you've been working. There is software that monitors how long you've been on the computer and will alert you to take a break at different intervals and offer easy ergonomic exercises to keep your muscles loose and in top office shape.
Ergonomic Products
There are plenty of
products out there to improve your workplace environment and promote top spine health.
Consider an ergonomic chair, computer accessories, or sit-stand desk to help maintain proper posture.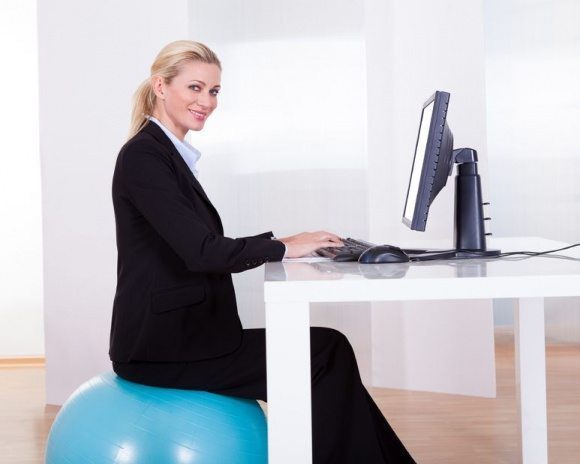 These products can be adjusted and customized to your needs
. They
encourage healthy long-term habits
that can reduce and prevent various types of injuries. Sit-to-stand desks allow transition from sitting to a standing position.
Varying your posture throughout the day is highly beneficial to general health and even helps to burn extra calories.
These ergonomic products are for creating a healthy/safe work environment.
Therefore take some time to research the product you are interested in before buying. Here are a few questions to think about:
Do the manufacturer's claims make sense or are too good to be true?
Is there evidence that can support their claims?
Is it a cheap knock-off? Knock off products should be avoided as they can worsen and create more injuries. However, when it comes to the brand name products, don't go for the fully loaded models that could cost quite a bit, instead find something in the middle but that still meets ergonomic standards.
Are you comfortable using the product?
What do experts/reviews say about the product? If it's not recommended then don't use it.
Some products can feel strange or uncomfortable because they make you change the way you work.
Don't panic, as this is the point of the product that you have to get used to. But it will be beneficial to your overall health. However, if a product continues to feel uncomfortable or causes pain after short use, then discontinue using and try something else.
Improving spinal health and hygiene at work
is as simple as
taking breaks for light stretching, walking around, and utilizing ergonomic office products to stay fit and injury-free
. Whatever you choose, understand how your back and neck are moving/functioning during the workday/night by using ergonomic practices that will keep your body/mind healthy and prevent office injuries.
---
Control *FOOT MOTION & POSTURE* with Custom Foot Orthotics | El Paso, TX.
---
NCBI Resources
Ergonomics is a scientific discipline that's been in existence for many years. Keeping their work environments safe and efficient and traditionally concerned with factory workers, ergonomic professionals have expanded their work to include all types of workers from laborers to seniors to office workers & students.
It looks for means to
improve our environment to lower the risks of illness and harm, enhance productivity, and improve the caliber of our work life.