Do you feel:
Inflammation?
Suspicion of nutritional malabsorption?
Unpredictable abdominal swelling?
Hormone imbalance?
Use antacids?
If you are experiencing any of these problems or situations in your body, why don't you try foods that are rich with antioxidants by using the ORAC.
Throughout scientific literature
, it has been well established at how necessary the daily vegetable and fruit intake is for anyone's physiological health and wellbeing. Not many people understand the importance of consuming more vegetables and fruit in their diet. Many healthcare professionals will often prescribe patients fruits and vegetables as well as more exercising, although some do not often explain why they should eat more fruits and vegetables.
Fruits and vegetables are filled with antioxidants like polyphenols, phytochemicals, and nutrients that are measured by their ORAC value.
ORAC or oxygen radical absorbance capacity
is a measurement of any food, spice, or nutrient/substance's ability to get rid of oxidative free radicals in a test tube. What is interesting is that free radicals and reactive oxidative species (ROS) are synonymous. What this means is that essentially free radicals are unstable molecules that are produced under a normal metabolic process.
Free radicals
can take the electrons from other molecules that are nearby in the body, which will cause a chain reaction consisting of oxidative stress and damage. When the body has continuous oxidative damage from inflammation, it can be a significant culprit to many degenerative conditions and age-related diseases, harming the person.
Many people would consider any medical diagnosis of any illnesses or diseases to be part of "normal" aging. With any conditions, people will accept and adapt to it, however, it may come as a shock for many people to find out that "age-related diseases" are not inevitable but a sign of unhealthy aging.
Studies found out
that cultures living in the blue zones are the healthiest cultures that have the highest life expectancy around the world. With these healthy cultures, they are a testament to anyone that aging does not equal to disease and poor health.
With healthy aging, it is defined as the metabolic age of being "younger than" the biological and chronological age.
A journal review mentioned
how to reduce systemic inflammation is the key to longevity and can prevent the development of the chronic disease. Studies were researching how risk factors for all-cause mortality and cardiovascular disease incidences in elders that live in Northern Greece. They found out that drinking coffee and tea, consuming fruit in vast quantities, and exclusive usage of olive oil was associated with cardiovascular diseases.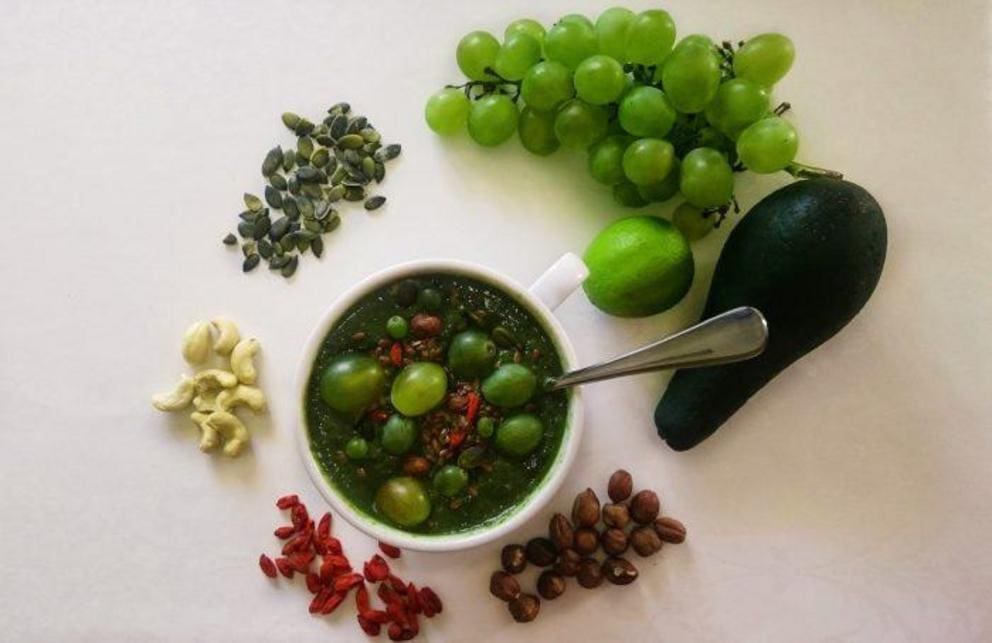 For anyone that is living in the blue zone, their diets and lifestyle factors are the primary determinants for their health and are the essential factors of longevity. The diets from the blue zones are usually plant-based, high in fiber and loads of vegetables, while also incorporating locally-caught fish that are rich in omega-3 fatty acids, this diet is similar to the Mediterranean-style diet.
ORAC Nutrients
There are a few specific vitamins and dietary compounds in food that have some of the highest ORAC values. One of the vitamins
is vitamin E subfractions
, especially delta-and gamma tocotrienols, which have a higher ORAC value than alpha-tocopherol while respectively contributing to substantially more significant health benefits. The two foods that are very high on the ORAC charts are
cherries
and
elderberries
. These two are highly nutritious due to phytonutrient-rich components like anthocyanins and quercetin. For vegetables,
leafy greens
like spinach and lycopene possess a high antioxidant profile.
In
early 2019, a study showed
how the consumption of spinach could help modulate the metabolism of lipids in the liver, while also finding out that the hepatic accumulation of alpha-carotene, beta-carotene, and lutein was correlated with blood glucose and total serum cholesterol. The many other fruits and vegetables that have
antioxidants components
that can help damp oxidative stress in the body and are highly nutritious for anyone to eat.
With many high ORAC fruits and vegetables can be condensed and form into supplements inside capsules and powders. Research shows that powdered greens that contain fruits and vegetable blends have become very popular amongst the health and wellness community. It makes sense due to that these capsules are loaded with antioxidant-rich phytochemicals that support the individual's overall health. Since densely packed fruits and vegetable powders are great tools, some individuals would argue that these powders are not adequate amounts for a person's diet.
With antioxidant-rich green powders, they are helpful for older adults who have limited mobility. For anyone that cannot prepare their meals, the powders can be blended with water or added to smoothies for optimal nutrition for the body. Another benefit that green powders have is that they can help counteract the deleterious effects of process food intake. For anyone unwilling to change their dietary patterns if they are taking particular nutrient-depleting medicine, as well as anyone who smokes or drinks alcohol, will suffer from chronic diseases in their body.
Conclusion
With the abundance of other compounds and foods that have a high ORAC value, any foods that have these antioxidants can help the body by removing inflammation in the joints and the gut, combating free radicals, and getting rid of oxidative stress that will cause systemic inflammation. By using the ORAC value system, finding food that has high antioxidant properties are essential. Even incorporating more fruits and vegetables in the diet is necessary for a healthy, functional body. Some
products
are formulated to help counter the metabolic effects of stress and support the gastrointestinal system in the body.
The scope of our information is limited to chiropractic, musculoskeletal, and nervous health issues or functional medicine articles, topics, and discussions. We use functional health protocols to treat injuries or disorders of the musculoskeletal system. Our office has made a reasonable attempt to provide supportive citations and has identified the relevant research study or studies supporting our posts. We also make copies of supporting research studies available to the board and or the public upon request. To further discuss the subject matter above, please feel free to ask Dr. Alex Jimenez or contact us at
915-850-0900
.
---
References:
Barclay, Eliza. "Eating To Break 100: Longevity Diet Tips From The Blue Zones."
NPR
, NPR, 11 Apr. 2015, www.npr.org/sections/thesalt/2015/04/11/398325030/eating-to-break-100-longevity-diet-tips-from-the-blue-zones.
Elvira-Torales, Laura Inés, et al. "Ameliorative Effect of Spinach on Non-Alcoholic Fatty Liver Disease Induced in Rats by a High-Fat Diet."
International Journal of Molecular Sciences
, MDPI, 3 Apr. 2019, www.ncbi.nlm.nih.gov/pubmed/30987167.
Hossain, Afzal, et al. "Enhancement of Antioxidant Quality of Green Leafy Vegetables upon Different Cooking Method."
Preventive Nutrition and Food Science
, The Korean Society of Food Science and Nutrition, Sept. 2017, www.ncbi.nlm.nih.gov/pubmed/29043220.
Liu, Qing, et al. "Comparison of Antioxidant Activities of Different Grape Varieties."
Molecules (Basel, Switzerland)
, MDPI, 23 Sept. 2018, www.ncbi.nlm.nih.gov/pubmed/30249027.
Pisoschi, Aurelia Magdalena, et al. "Antioxidant Capacity Determination in Plants and Plant-Derived Products: A Review."
Oxidative Medicine and Cellular Longevity
, Hindawi Publishing Corporation, 2016, www.ncbi.nlm.nih.gov/pubmed/28044094.
Team, DFH. "Cherries: Whats Not to Love?"
Designs for Health
, 5 Jan. 2018, blog.designsforhealth.com/cherries-whats-not-to-love.
Team, DFH. "Elevate the Immune System with Elderberry."
Designs for Health
, 5 Jan. 2018, blog.designsforhealth.com/elevate-the-immune-system-with-elderberry-0.
Team, DFH. "ORAC Defined."
Designs for Health
, 5 Dec. 2019, blog.designsforhealth.com/node/1163.
Team, DFH. "Tocotrienols."
Designs for Health
, 7 Dec. 2018, blog.designsforhealth.com/node/909.
Tsoupras, Alexandros, et al. "Inflammation, Not Cholesterol, Is a Cause of Chronic Disease."
Nutrients
, MDPI, 12 May 2018, www.ncbi.nlm.nih.gov/pmc/articles/PMC5986484/.
Weil, Andrew. "ORAC: Scoring Antioxidants? - Dr. Weil."
DrWeil.com
, 5 Aug. 2016, www.drweil.com/vitamins-supplements-herbs/vitamins/orac-scoring-antioxidants/.