Do you feel:
Stressed out?
Have uncontrollable weight gain?
Can you not remember specific stuff?
Agitated, jittery, anxious?
Inflammation?
If you are experiencing any of these situations, then your hippocampus might be lowered than usual.
The Hippocampus
In the brain, there is an S-shaped structured located in the inner folds in the temporal lobe called the hippocampus.
The hippocampus
is a complex brain structure that has a layer of densely packed neurons, and its primary function involves how humans learn and how their memory works. The hippocampus is part of the limbic system as well since it works the feeling and reacting function in the body. The limbic system is situated at the edge of the cortex and includes the hypothalamus and the amygdala.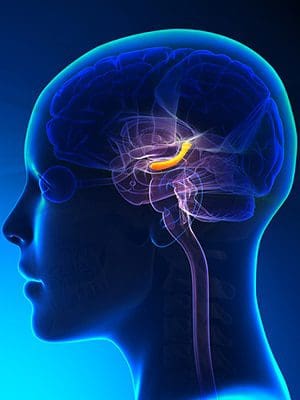 These structures help controls the body's different functions like the endocrine system and the "fight or flight" reaction response. With the hippocampus helping humans process what information they are learning, this structure can retrieve two kinds of memories that are important; they are declarative memories and spatial relationship memories.
Declarative memories: These are memories that are related to facts and events a person experience. It includes examples like how to memorize speeches or line in a play that a person is doing.
Spatial relationship memories: These memories involve pathways or routes that a person must learn. An example of this is transportation drivers like cab drivers, bus drivers, and truckers who have to learn the routes in the places they are going to. So they use spatial memory and practice their routes many times until they have it in their memories. The spatial relationship memories are stored on the right side of the hippocampus.
Sadly though, the hippocampus can be damaged by neurological diseases like Alzheimer's disease and PTSD (Post-Traumatic Stress Disorder). When it is damaged,
a variety of conditions
can affect the hippocampus's ability to do its job for the brain, thus making the individual suffer from retaining information.
Hippocampus Conditions
Several conditions can cause problems to the body when the hippocampus is damaged. This is known as hippocampus atrophy, where the neurons and neuronal volume in the hippocampal that is a loss.
Alzheimer's Disease
Alzheimer's disease is when an individual begins to lose their memory. When the hippocampus is damaged, it can cause a dissociation between the cortexes and leads to information registration failure.
Studies show
that when Alzheimer's disease is progressing, the hippocampus will lose its volume, and it will become harder for an individual to function in their daily lives.
Epilepsy
When a person has epilepsy, it might be due to a damaged hippocampus.
Research shows
that around 50 to 75% of patients with this disease may have hippocampal sclerosis, and in case they have died, they have medial temporal lobe epilepsy. More research states that the mechanics of hippocampal sclerosis in epilepsy can be related to the development of inflammation on the uncontrolled local hippocampus and blood-brain barrier damage.
Hypertension
When the hippocampus is damaged, hypertension can happen to a person.
Hypertension
is another name for high blood pressure, and it can lead to severe health complications to the body. Even though the causes of hypertension are still unknown, the risk factors from hypertension can include:
Environmental factors like stress or a lack of exercise
Hormone activity
Blood plasma
Studies show
that hypertension and other risk factors are being increasingly viewed as a putative factor that is leading to hippocampal atrophy.
Cushing's Disease
Cushing's disease or Cushing syndrome is when the body is exposed to high levels of cortisol for a long time.
Studies show
that when there is a loss of cellular volume to the corticosteroid's levels in the body and it could be responsible. When there is too much cortisol being produced in the body, it is one of the signs of Cushing syndrome. Some of the other signs include:
Weight gain
Fatty tissue deposits around the midsection, face, upper back and between the shoulders
Pink or purple stretch marks
Thinning, fragile skin that bruises easily
Slow healing cuts, insect bites and infections
Acne
Muscle weakness
Cognitive difficulties
Loss of emotional control
Since stress does play a role in the endocrine system and the neurological system, there are
nearly 80 years of research
on how much focus has been on the various levels of the HPA (hypothalamic-pituitary-adrenal) axis and the hormones it produces. It shows that glucocorticoids as the mediators for the stress effects on the hippocampus and being the contributing factor for stress-associated psychopathologies.
Conclusion
The hippocampus is located in the temporal lobe of the brain. This S-shaped structure can be easily damaged due to stress and other neurological factors that can affect the entire body and its systems. When harmful factors affect the hippocampus, it can lead the hormones that are producing to become imbalanced and cause dysfunction. Some
products
are here to make sure that the endocrine system is functioning properly and supporting the metabolic system, the gastrointestinal system, as well as making sure the hormones are balanced.
The scope of our information is limited to chiropractic, musculoskeletal, and nervous health issues or functional medicine articles, topics, and discussions. We use functional health protocols to treat injuries or disorders of the musculoskeletal system. Our office has made a reasonable attempt to provide supportive citations and has identified the relevant research study or studies supporting our posts. We also make copies of supporting research studies available to the board and or the public upon request. To further discuss the subject matter above, please feel free to ask Dr. Alex Jimenez or contact us at
915-850-0900
.
---
References:
Anand, Kuljeet Singh, and Vikas Dhikav. "Hippocampus in Health and Disease: An Overview."
Annals of Indian Academy of Neurology
, Medknow Publications & Media Pvt Ltd, Oct. 2012, www.ncbi.nlm.nih.gov/pmc/articles/PMC3548359/.
Dresden, Danielle. "Hippocampus: Function, Size, and Problems."
Medical News Today
, MediLexicon International, 7 Dec. 2017, www.medicalnewstoday.com/articles/313295.php.
Felman, Adam. "Hypertension: Causes, Symptoms, and Treatments."
Medical News Today
, MediLexicon International, 22 July 2019, www.medicalnewstoday.com/articles/150109.php.
Kim, Eun Joo, et al. "Stress Effects on the Hippocampus: a Critical Review."
Learning & Memory (Cold Spring Harbor, N.Y.)
, Cold Spring Harbor Laboratory Press, 18 Aug. 2015, www.ncbi.nlm.nih.gov/pmc/articles/PMC4561403/.
Team, Mayo Clinic. "Cushing Syndrome."
Mayo Clinic
, Mayo Foundation for Medical Education and Research, 30 May 2019, www.mayoclinic.org/diseases-conditions/cushing-syndrome/symptoms-causes/syc-20351310.