Do you feel:
Stomach pains, burning, or aching 1-4 hours after eating?
Excessive belching, burping, or bloating?
Do digestive problems subside with relaxation?
Abdominal distention after certain probiotics?
Frequent use of medication?
If you are experiencing any of these situations, then you might be experiencing some bacterial problems in the immune system that can be lowered with the antimicrobial agent: silver.
Silver the Antimicrobial Agent
It is known for being an antimicrobial agent in the form of cream ointment for second and third-degree burns on individuals. Silver has been longed used as a cationic polymer to produce bactericidal materials and has been applied to biosensors, drug delivery systems, and medical devices that require antimicrobial properties.
The full antimicrobial potential of oral silver has yet to be capitalized upon despite the research that has a large amount of promising of the usage of silver.
The research stated
that silver had been known for addressing contemporary problems in infection control like multi-drug resistance, which is causing a rising number of dangerous hospital and community-acquired infections in individuals.
To maximize the antimicrobial efficacy of silver in the body, it must be enhanced through the absorption and has to interact with cell membranes in the body. Silver has to be reduced to the size between 1 and 100 nanometers (nm), which is classifies the therapeutical effect of the "silver nanoparticle."
Silver Nanoparticles
The
silver nanoparticles
are active antibacterial agents in the body. The crucial factors of silver nanoparticles are that they can affect the bactericidal activity due to their size, shape, surface function, and stability. The antibacterial properties of silver nanoparticles are found to increase with a decrease in their diameter, and the direct interaction of silver nanoparticles with bacteria mainly occurs when the diameters are around 1-10 nm.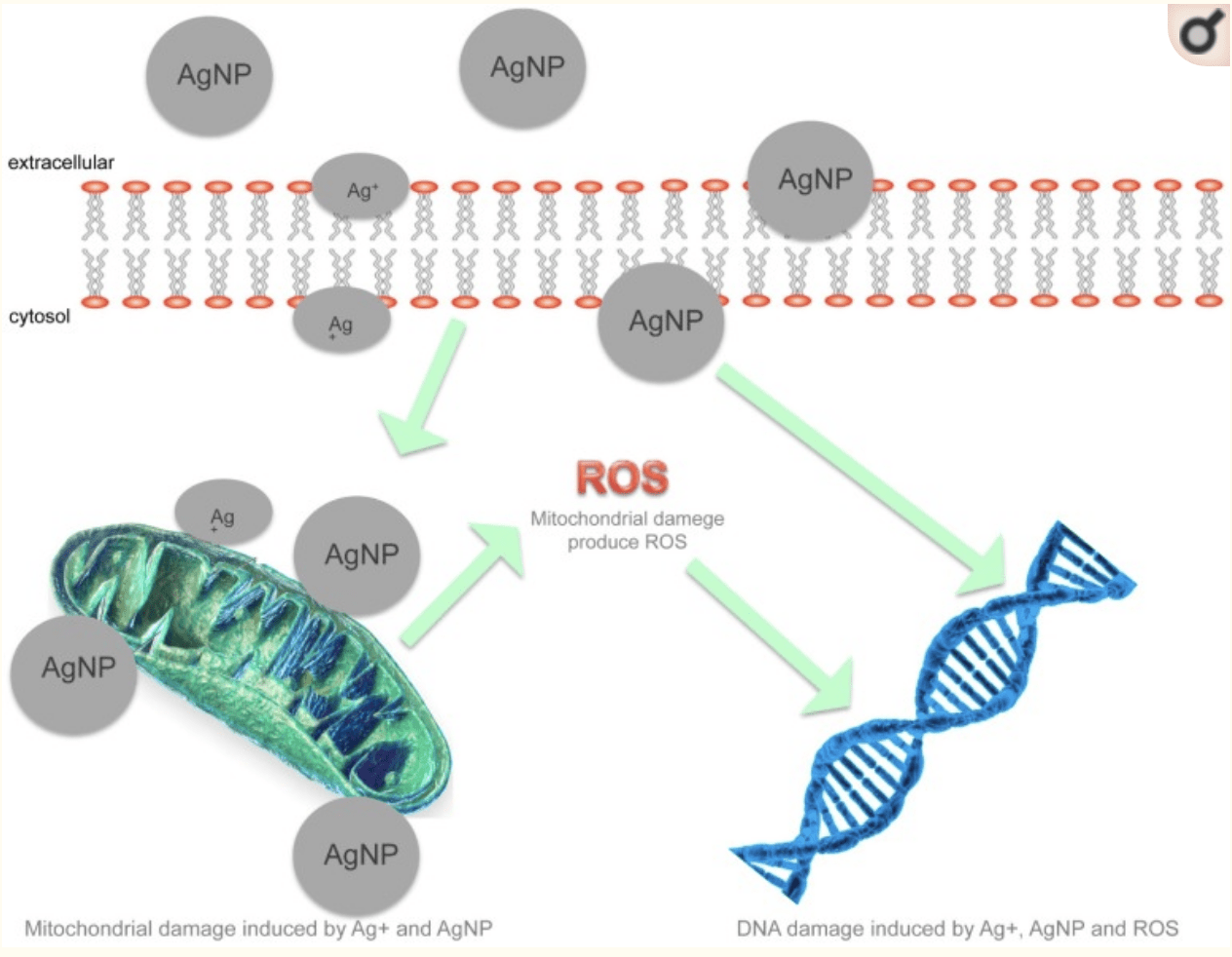 Once the silver nanoparticles are absorbed into the bloodstream, it then adheres and accumulates on the bacterial cell walls. Once they attach to the bacterial cell walls, then they can
elicit irreversible damage
by causing structural changes and deforms in the walls of the bacterial cell by creating gaps and increasing permeability. The smaller the size of silver nanoparticles is, the higher the ability it has to penetrate and increase the types of bacteria, which silver nanoparticles can kill.
Several studies have been shown
that silver nanoparticles activity is strongly dependent on size. For example, silver nanoparticles that are less than 30 nm are effective against
Staphylococcus aureus
and
Klebsiella pneumoniae
. The silver bactericidal not only is weakening the cell walls of the bacteria (like the mechanisms of action in common antibiotics in the penicillin and cephalosporin categories), but once they are inside, they can exert the bactericidal activities by damaging protein and DNA through denaturation and blocking the transcription/translation. Finally, the silver nanoparticles can release ROS (reactive oxygen species), which enhances the former bactericidal activities.
Silver Nanoparticles as Antibiotics
In many ways, silver nanoparticles can function like traditional antibiotics; however, unlike pharmaceuticals, silver nanoparticles are effective against the broad-spectrum of Gram-positive and Gram-negative bacteria. Silver nanoparticles are more effective against Gram-negative bacteria, and unlike traditional antibiotics, they are effective when they destroy viruses and fungus.
A 2019 study stated
that silver nanoparticles between 10 and 20nm were shown to possess a significant amount of antibacterial action against bacteria like
Bacillus cereus, Listeria monocytogenes, Staphylococcus aureus, Staphylococcus saprophyticus, Escherichia coli, Pseudomonas putida
when it is analyzed by well diffusion assay.
Another 2019 study showed
that silver nanoparticles are effective in eradicating Gram-negative
Helicobacter pylori
, which colonizes the gastric epithelium and can be a causative agent in various gastrointestinal diseases like peptic ulcers, gastritis, mucosa-associated lymphoid lymphoma, and adenocarcinoma.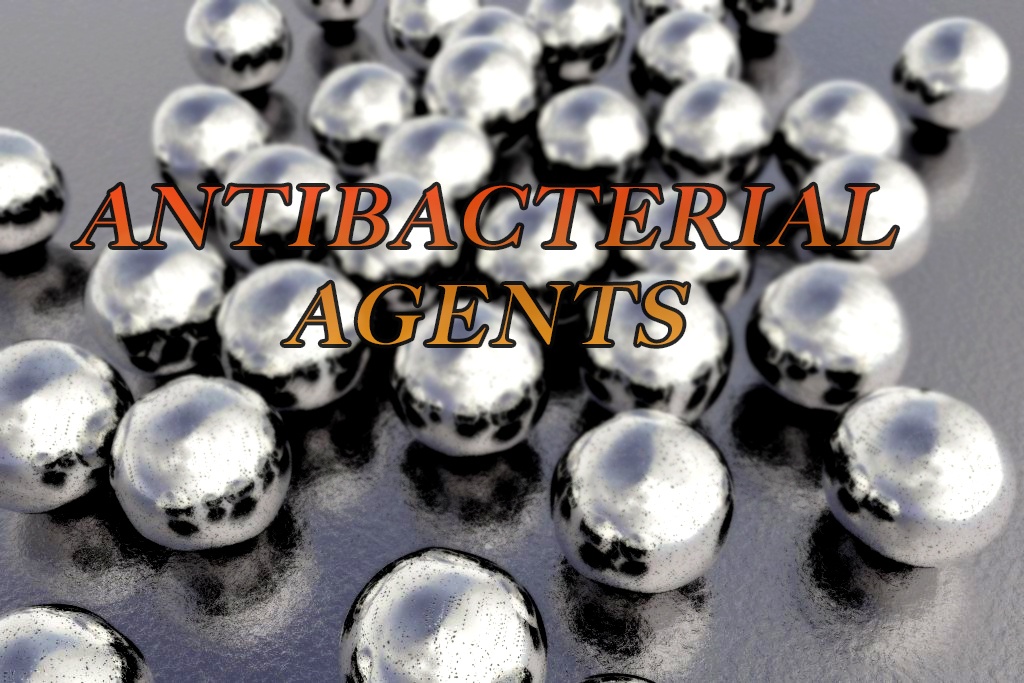 Since multi-drug resistance is a growing problem in the treatment of infectious diseases and the widespread use of broad-spectrum antibiotics has been produced as antibiotic resistance to protect the bacteria species from antibiotic penetration. Luckily though, silver nanoparticles have been shown to
prevent glycocalyx formation
that is necessary for biofilm production, and silver nanoparticles have been able to breakthrough he biofilms at concentrations lower than 50 µg/mL.
A highlight of silver nanoparticles as antibacterial agents is their effectiveness at minimal concentrations.
One study stated
that since silver is widely used in industrial applications because of its metallic properties and its antibacterial activities are against various organisms. Like the growth of
Escherichia coli
,
Staphylococcus
,
Providencia
,
Serratia
, and
Pseudomonas aeruginosa
are inhibited by the presence of silver at doses of approximately 1 µg/mL.
Since the safety of silver nanoparticles is favorable according to the
present research
since cytotoxicity is noted in some cell lines and this action is dose-dependent, and the toxicity is low as well as safe for concentrations that are less than 10 µg/mL. The only possible way that toxicity is in the body is the overproduction of ROS. An excessive quantity of ROS can cause oxidative stress in DNA, lipids, and proteins in the body.
Conclusion
In an era where bacterial infections are running rampant and growing to resist antibiotics. Alternative antimicrobial agents like silver nanoparticles must be vital for the body to heal itself. Even though silver nanoparticles are not new agents, they deserve to be given the credit they deserve for addressing this contemporary issue that is infecting the body. Along with silver nanoparticles, some
products
are known to help the immune system and offer hypoallergic nutrients, metabolic support for enzymes in the body, phytonutrients, target amino acids, and offer gastrointestinal support to make the body function properly.
October is Chiropractic Health Month. To learn more about it, check out
Governor Abbott's declaration
on our website to get full details on this historic moment.
The scope of our information is limited to chiropractic, musculoskeletal and nervous health issues as well as functional medicine articles, topics, and discussions. We use functional health protocols to treat injuries or chronic disorders of the musculoskeletal system. To further discuss the subject matter above, please feel free to ask Dr. Alex Jimenez or contact us at
915-850-0900
.
---
References:
Franci, Gianluigi, et al. "Silver Nanoparticles as Potential Antibacterial Agents."
Molecules (Basel, Switzerland)
, MDPI, 18 May 2015, www.ncbi.nlm.nih.gov/pmc/articles/PMC6272636/.
Jose, Manu, et al. "Influence of Preparation Procedure on Physicochemical and Antibacterial Properties of Titanate Nanotubes Modified with Silver."
Nanomaterials (Basel, Switzerland)
, MDPI, 23 May 2019, www.ncbi.nlm.nih.gov/pmc/articles/PMC6566197/.
Nakamura, Shingo, et al. "Synthesis and Application of Silver Nanoparticles (Ag NPs) for the Prevention of Infection in Healthcare Workers."
International Journal of Molecular Sciences
, MDPI, 24 July 2019, www.ncbi.nlm.nih.gov/pmc/articles/PMC6695748/.
Patil, Maheshkumar Prakash, et al. "Morphological Changes of Bacterial Cells upon Exposure of Silver-Silver Chloride Nanoparticles Synthesized Using Agrimonia Pilosa."
Microbial Pathogenesis
, U.S. National Library of Medicine, Mar. 2018, www.ncbi.nlm.nih.gov/pubmed/29339306.
Saravanakumar, Kandasamy, et al. "Unveiling the Potentials of Biocompatible Silver Nanoparticles on Human Lung Carcinoma A549 Cells and Helicobacter Pylori."
Scientific Reports
, Nature Publishing Group UK, 8 Apr. 2019, www.ncbi.nlm.nih.gov/pmc/articles/PMC6453883/.
Team, DFH. "Silver as a Novel Antibacterial Agent."
Designs for Health
, 22 Oct. 2019, blog.designsforhealth.com/node/1132.