Lisfranc Fracture-Dislocation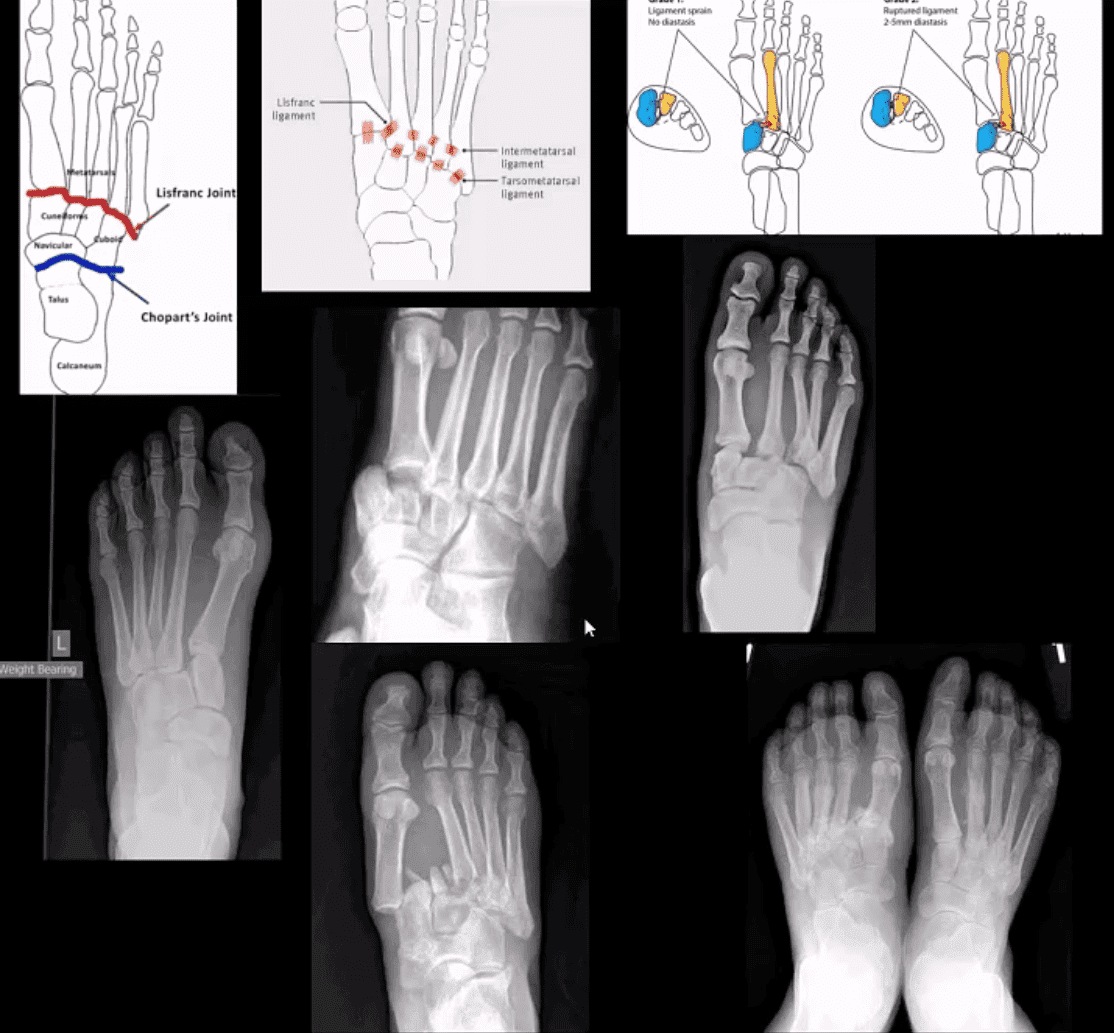 M/C dislocation of the foot at tarsal-metatarsal articulation (Lisfranc joint). Direct impact or landing and plantar or dorsal flexing the foot. Lisfranc ligament holding 2nd MT base and 1st Cu is torn. Manifests with or w/o fracture-avulsion.
Imaging: 1st step: foot radiography in most cases sufficient to Dx. MSK US may help: show disrupted Cu1-Cu2. Ligament and widened space > 2.5mm. MRI may help but not essential. Weight-bearing view aids Dx.
2-types: homolateral (1st MTP joint in contact) and divergent (2-5 MT displaced laterally and 1st MT medially)
Management: operative fixation is crucial
N.B. Atraumatic Lisfranc dislocation is a frequent complication of a diabetic Charcot foot
Osteochondral Injury of the Talus (OCD)
Common. Non-traumatic found in superior-medial talar dome. Traumatic may affect supero-lateral dome.
Clinically: pain/effusion/locking. Imaging is crucial.
1st step: radiography may reveal focal radiolucent concavity/halo, fragment.
MRI helpful esp. if OCD is cartilaginous and to demonstrate bone edema.
Management: non-operative: short-leg cast/immonbilization-4-6 wk. operative: arthrocsopic removal.
Complications: premature 2nd DJD
Metatarsal Injuries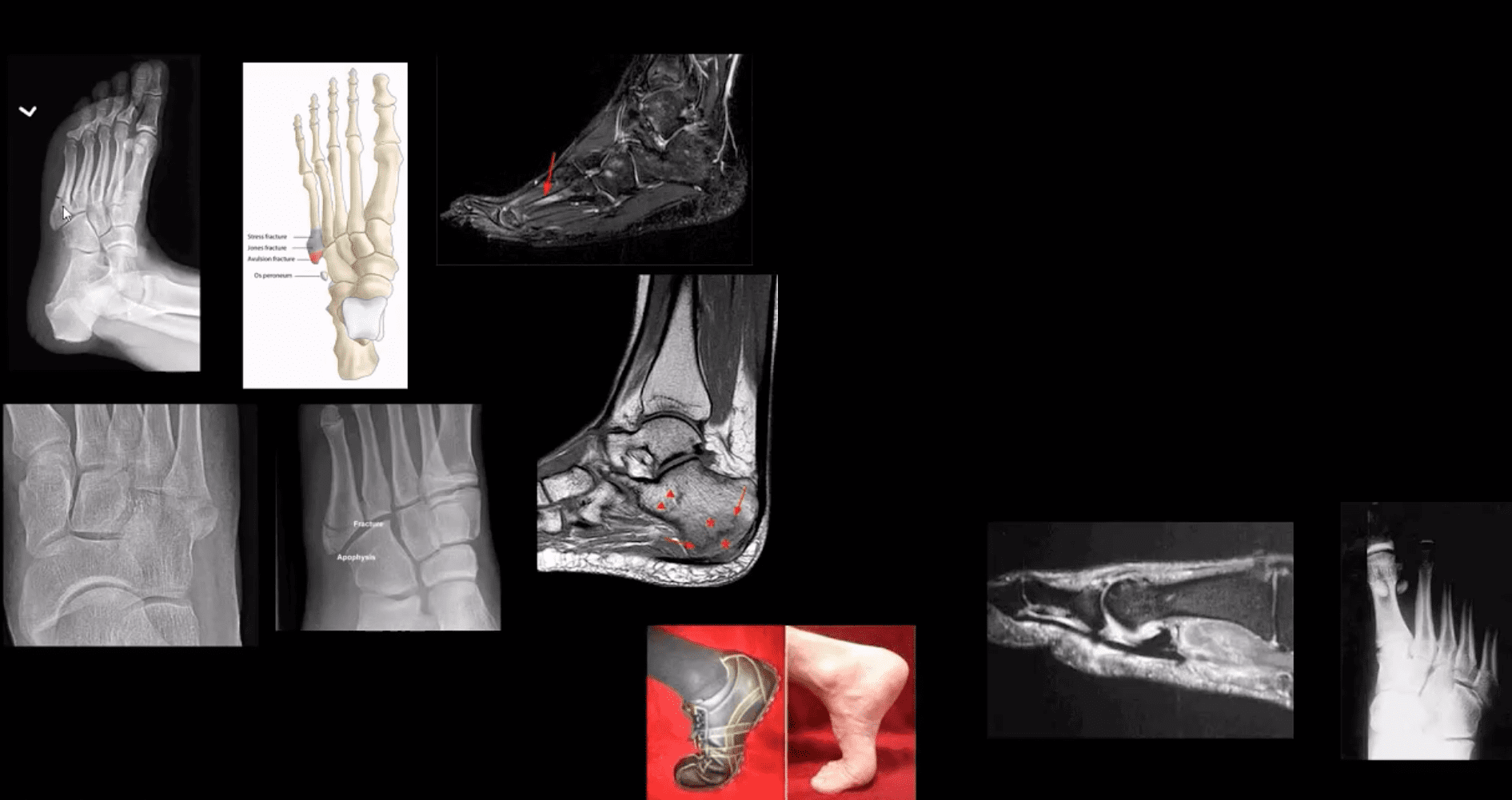 Acute & Stress fractures are common: m/c 5th MT & 2nd, 3rd MT.
Jones Fx: extra-articular Fx of proximal metaphysis of the 5th MT. Prone to non-union. Often fixed operatively.
Pseudo-Jones: intra-articular avulsion of 5th MT styloid/base by eccentric contraction of Peroneus Brevis M. Managed conservatively: boot-cast immobilization. Both Jones & Pseudo-Jones Dx by foot series radiography.
Stress Fx. Calcaneus, 2nd, 3rd, 5th MTs. Repeated loading (running) or "March foot" 2nd/3rd MT. Clinically: pain on activity, reduced by rest. Dx: x-rays often unrewarding earlier. MRI or MSK US may help. Managed: Conservatively. Complications; progress into complete Fx
Turf toe: common athletic hyperextension of 1st MTP-sesamoid/plantar plate complex tearing. 1st MTP unstable/loose. Managed operatively.
Arthritis of the Foot & Ankle
DJD of the ankle: uncommon a primary OA. Typically develops as 2nd to trauma/AVN, RA, CPPD, Hemophilic arthropathy, Juvenile Idiopathic Arthritis, etc. manifests as DJD: osteophytes, JSL, subchondral cysts all seen on x-rays
Inflammatory Arthritis: RA may develop in the ankle or any synovial joint. Will typically presents with symmetrical Hands/feet RA initially (2nd, 3rd MCP, wrists, MTPs in feet) typically with erosion, uniform JSL, juxta-articular osteopenia, and delayed subluxations.
HLA-B27 spondyloarthropathies: commonly affect lower extremity: heel, ankle esp in Reactive (Reiter). Erosive-productive bone proliferation is a crucial Dx.
Gouty Arthritis: common in the lower extremity. Ankle, mid-foot foot esp 1st MTPs. Initial onset: acute gouty arthritis with ST effusion and no erosions/tophi. Chronic tophaceous gout: peri-articular, intra-osseous punched-out erosions with over-hanging edges, no initial JSL/osteopenia, ST. Tophi may be seen.
Miscellaneous arthropathy: PVNS. Not common. Affects 3-4th decades of life. The result of synovial proliferation with Macrophages and multi-nucleated Giant Cells filled with hemosiderin and fatty accumulation may lead to inflammation, cartilage damage, extrinsic bone erosions. Dx: x-rays are insensity, MRI modality of choice. Synovial biopsy. Management: operative, can be difficult.
Neuropathic Osteoarthropathy
(Charcot's joint) Common and on the rise d/t epidemic in type 2 DM. May present with pain initially (50% of cases) and painless destructive arthropathy as a late manifestation. Early Dx: delayed. Imaging is crucial: x-rays: initially unrewarding, some SF effusion is seen. MRI helps with early Dx and extremity off-loading. Late Dx: irreversible dislocations, collapse, disability. Note: Lisfrance dislocation in Charcot joint
M/C mid-foot (TM joint) in 40% of cases, ankle 15%. Progression: Rocker-bottom foot, ulcerations, infections, increased morbidity, and mortality.
Early Dx: by MRI is crucial. Suspect it in patients with type 2 DM especially if early non-traumatic foot/ankle pain reported.