Tibial Plateau Fractures
Impaction type fractures predominate
Result from valgus or varus stress with or w/o axial loading
Associated with periarticular soft tissues injury
High-stress injury m/c due to jumps falls and axial loading, often with the splitting of the tibial plateau. Men>women. Patients are in their 30s
Low impact or no trauma in patients with osteoporosis d/t insufficiency fractures
Impaction injury is more common with depression of tibial plateau. Women>men. Patients are in their 70s
Lateral Tibial Plateau Fractures More Common
Functional anatomy plays a significant role
60% of weight bearing is by the medial plateau
The medial plateau is more concave
The lateral plateau is slightly higher and more convex. Valgus stress impacts lateral plateau.
Tibial plateau fractures considered intra-articular and prone to delayed healing, non-union, meniscal injury (m/c lateral) ACL tear, secondary OA. Other complications: compartment syndrome, vascular injury.
Management: operative in many cases especially if >3-mm step-off at the plateau
If medial plateau or bicondylar Fxs present, ORIF will be required.
Imaging Plays A Crucial Role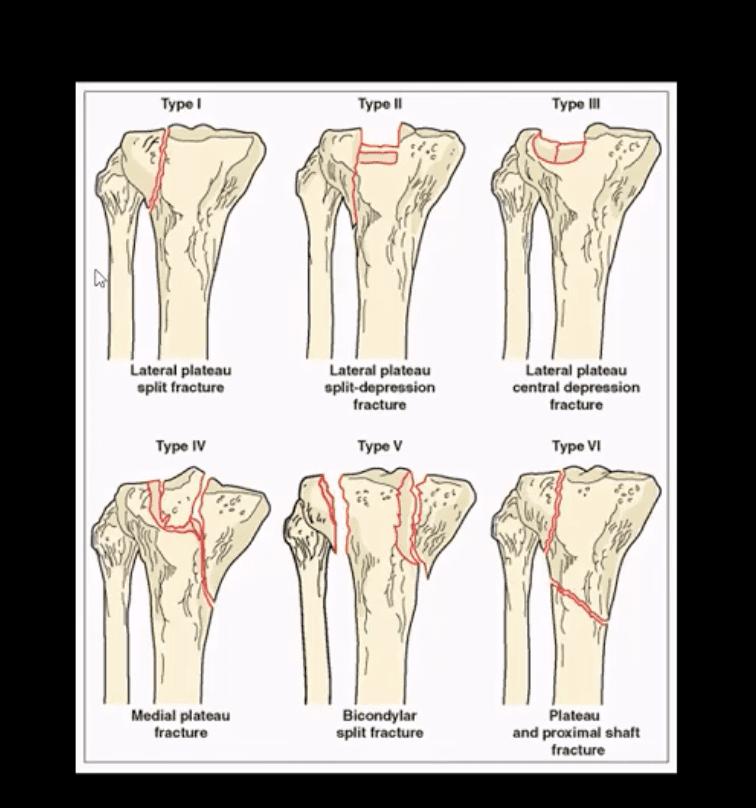 Begins with x-radiography. X-radiography may not reveal the complexity and extent of this injury.
CT scanning w/o contrast will further delineate fracture complexity and pre-operative planning
MR imaging may be considered to evaluate for internal derangement: meniscal, ACL injuries.
Shatzke classification may help to evaluate the complexity of this injury
Key Diagnostic Sign
AP and lateral horizontal beam (cross table) left knee radiograph. Note subtle depression of the lateral plateau manifested by the lateral plateau appearing at the same level or lower as the medial. A critical diagnostic sign is the presence of fat-blood-interphase or FBI sign on cross-table lateral (above arrow) indicating intra-articular knee fracture
Lipohemarthorosis aka FBI Sign
Can be detected by radiography, CT or MR imaging
FBI sign is a reliable secondary radiographic sign of intra-articular knee fractures, regardless of how small they are
Mechanism: fracture results with acute hemarthrosis
Hemarthrosis will also occur w/o Fx. However, Fx will result with a fatty marrow being released into the joint cavity. Fat is a less dense medium (lighter) and will appear on the top of the hemorrhage if the patient is held in the supine position for 5-10-minutes before the cross-table radiograph is taken
FBI sign confirms the intra-articular Fx.
ACL/PCL, meniscal tears will not result in FBI sign
Lateral Tibial Plateau Fx
Lateral tibial plateau Fx that was managed operatively
Most common complication: premature secondary OA
More complex injuries may result in more extensive operative care
Knee Internal Derangement
Acute or chronic injuries of meniscal fibrocartilages and ligamentous restraints
Tears of the ACL and posterior horn of the medial meniscus are the most common
Acute ACL tears, however, often result with a lateral meniscus tear
Acute ACL tear may occur as a combined injury of the ACL, MCL, and medial meniscus
Functional anatomy: ACL prevents anterior displacement of the tibia and secondary varus stress
MCL functions together with ACL in resisting external rotation of the tibia especially when the foot is planted (closed chain position)
MCL is firmly attached to the medial meniscus, explaining the classic triad of ACL, MCL and medial meniscal tear (O'Donahue terrible triad)
Cruciate ligaments (ACL/PCL) are intra-articular but extra-synovial. Less likely to be torn in closed pack position (full extension). When all articular facets of tibia and femur are in full contact, the ACL/PCL are at least tension and stable
When the knee is flexed 20-30-degrees or more ACL is taut and remains unstable
ACL is a significant mechanoreceptor that feeds the info to CNS about the joint position. Thus the majority of previous ACL tears will lead to some degree of knee instability
Functional Anatomy of ACL
Diagnosis of ACL Tear
Diagnosis of ACL tear requires MR imaging
Concerns exist of not only ligamentous injuries but injuries to the articular cartilage and menisci.
Most vendors will perform at least: one T1 WI in coronal or sagittal planes. Sagittal and coronal Proton-density slices to evaluate cartilaginous structures. Fast spin-echo sagittal, axial and coronal T2 fat-saturated or sagittal and coronal STIR images are crucial to demonstrate edema within the substance of knee ligaments
Note sagittal proton-density MRI slice showing intact ACL (above)
ACL is aligned along the Blumensaat line or oblique line corresponding the intercondylar roof of Femoral condyles. Lack of such alignment by the ACL is significant for ACL tear
Imaging Dx of Internal Derangement
MRI shows 78-100% sensitivity and 78-100% specificity
Primary signs of ACL tear: non-visualization of ACL (above green arrow), loss of its axis along the Blumensaat line (above triangle heads), wavy appearance and substance tear (above white arrow) or edema and cloud-like indistinctness (above yellow arrow)
Reliable Secondary Signs of ACL Tear
May be observed on the radiographs and MRI
Segond avulsion fracture (80% specificity for ACL tear) (next slide)
Deep femoral notch sign indicating osteochondral fracture (above bottom images) and
Pivot -shift bone marrow edema in the posterolateral tibial condyle d/t external rotation and often valgus impact by the lateral femoral condyles (above top image)
Segond Fracture (Avulsion by ITB)
Segond fracture at Gerdy's tubercle. A vital sign of the ACL tear seen on both radiographs and MRI
Management of ACL Tears
In acute cases, usually operative using cadaveric or autograft (patella ligament or hamstring) ACL reconstruction
Complications: graft tear, instability and premature DJD, joint stiffness d/t lack of postoperative rehab or gaft shortening. More rare, infection, the formation of intraosseous synovial cysts etc