Hypothyroidism, or underactive thyroid function, is a commonly reported thyroid disease. There are many common symptoms which characterize the presence of hypothyroidism, although a diagnosis is required for treatment.
Can hypothyroidism be left untreated?
Hypothyroidism can progress and cause a great number of complications if left untreated. Getting regular screenings to ensure an early diagnosis and knowing the symptoms of hypothyroidism will prevent the onset of the complications. The list below is a group of common complications which can occur if hypothyroidism isn't treated properly.
Birth Defects
If you are pregnant and have a thyroid disorder like hypothyroidism, your child may have a higher risk of developing birth defects than babies born to healthy mothers. Infants born to women with untreated thyroid illnesses might have mental and physical growth issues since thyroid hormones are vital for brain growth. Fortunately, if such problems are addressed shortly after the birth, the child may experience a normal, healthy development. An abbreviated thyroid function test is part of the newborn screen. This includes a panel of blood tests performed to exclude diseases.
Goiter
An excessive stimulation can cause the thyroid gland to expand to the point where you've got a bulge on your neck when your thyroid over exerts itself in an effort to make an adequate amount of hormones. This is known as a goiter.
Heart Problems
Hypothyroidism in its mildest forms, can affect the health of your heart. An underactive thyroid can boost your chance of developing heart disease because it raises levels of "bad" cholesterol. Too much bad cholesterol can result in atherosclerosis, or hardening of the arteries, which can increase your risk of heart attacks and strokes. Hypothyroidism can result in the buildup of fluid around the heart, medically referred to as pericardial effusion, which might make it harder for the heart to pump blood, affecting its overall function and that of the body.
Infertility
Hypothyroidism can affect ovulation and decrease the chances of conceiving, if thyroid hormone levels are too low. Even with appropriate treatment for hypothyroidism, such as that of thyroid hormone replacement therapy, there is not any guarantee that the woman will be fully fertile.
Mental Health Issues
If left untreated the signs of hypothyroidism can have a toll on the body and mind of the individual. Mild hypothyroidism can cause mild forms of depression. However, the symptoms of hypothyroidism may increase over time. This can directly affect your psychological condition, and your depression may intensify as an outcome. Moreover, untreated hypothyroidism has been associated with a decrease in psychological functioning.
Myxedema
Myxedema is the term for extreme hypothyroidism which occurs if the disease has progressed for a very long time with no treatment. Since it's highly unlikely that you wouldn't seek treatment and wouldn't recognize the signs, Myxedema is quite rare. This kind of hypothyroidism is life threatening. Your metabolism can slow down to the point at which you would fall into a coma. If you experience symptoms such as extreme fatigue or cold intolerance, associated symptoms of myxedema, seek medical treatment from a healthcare professional immediately.
The real key to preventing the complications of hypothyroidism is to understand the disease's symptoms and seek proper medical intervention. Hypothyroidism is manageable and it does not need to interfere with your life.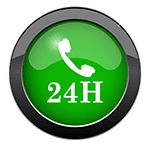 The scope of our information is limited to chiropractic and spinal injuries and conditions. To discuss options on the subject matter, please feel free to ask Dr. Jimenez or contact us at
915-850-0900
.
By Dr. Alex Jimenez
Additional Topics: Wellness
Overall health and wellness are essential towards maintaining the proper mental and physical balance in the body. From eating a balanced nutrition as well as exercising and participating in physical activities, to sleeping a healthy amount of time on a regular basis, following the best health and wellness tips can ultimately help maintain overall well-being. Eating plenty of fruits and vegetables can go a long way towards helping people become healthy.