Compartment syndrome is a condition that causes pressure within a group of muscles to build up to dangerous levels. This pressure build-up begins to decrease blood flow, not allowing proper circulation, nutrients, and oxygen from getting to the nerves and muscle cells. The syndrome can be acute or chronic, and surgery can be required. Acute compartment syndrome is considered a medical emergency, usually caused by a severe injury and requires immediate treatment; otherwise, it can lead to permanent muscle damage. Chronic compartment syndrome or exertional compartment syndrome is usually not a medical emergency and is often caused by physical exertion.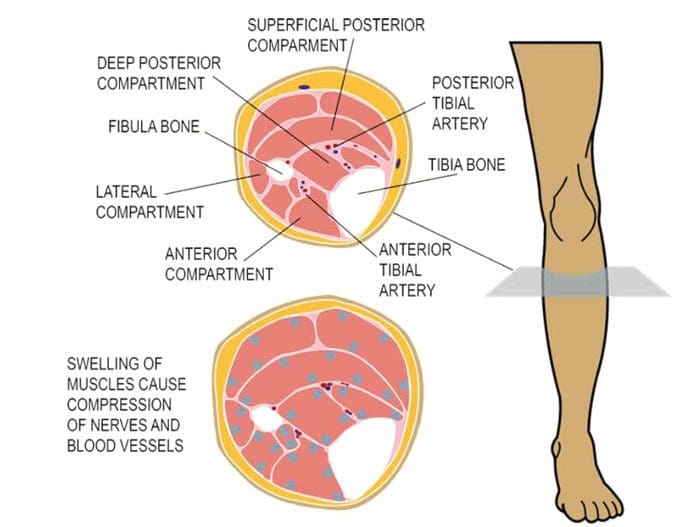 Muscle Compartment
A compartment comprises a group of:
The fascia does not stretch or expand because its job is to keep the tissues in place. If compartmental pressure builds up, swelling and bleeding may occur. When the tissues don't have enough blood to provide the proper amount of oxygen and nutrients, the tissues begin to die, leading to permanent damage. Because the fascia does not stretch if there is swelling or bleeding within a compartment, this increases pressure on the:
Capillaries
Nerves
Muscles in that compartment.
Blood circulation does not reach the compartment to supply oxygen and nutrients.
Nerve and muscle cells get damaged.
Compartment syndrome most often takes place in the lower leg's anterior/front calf compartment.
However, it can also develop in other areas like the:
Legs
Arms
Hands
Feet
Buttocks
Acute
The typical symptom is pain, specifically when the muscle in the compartment is stretched.
The pain is more intense than the injury itself.
Flexing, contracting, or stretching the muscles increases the pain.
Tingling or burning sensations may present.
Muscle tightness or fullness sensation like bloating.
Numbness or paralysis are late symptoms that usually indicate severe to permanent tissue injury.
The acute syndrome develops after a severe injury, like an automobile accident or from a broken bone. Injuries and conditions that can cause acute compartment syndrome include:
Fractures
Muscle contusion/bruise that goes beyond just a bump. Two examples include a motorcycle falling on the rider's leg or a football player getting hit in the leg intensely.
Constricting bandages - Casts and bandages that are too tight can cause the blockage of blood. If symptoms develop, remove or loosen any constricting bandages. If it is from a cast, contact the doctor immediately.
Anabolic steroids - Taking steroids is a possible factor in compartment syndrome.
Blood circulation restoration after a blockage.
When sleeping, a blood vessel can get blocked. Lying for a long time in a position that causes a limb to go to sleep, then shifting, moving, or getting up can contribute to the condition. This type of development can happen in individuals with neurological damage or who do not realize what is occurring. This can happen after intense intoxication with alcohol and/or drugs.
Surgical repair of a damaged blood vessel that was blocked can result in compartment swelling.
Permanent disability and tissue death can result unless the pressure is relieved.
Chronic Physical Exertion
The pain and swelling from the chronic condition are caused by vigorous physical activity/exercise. It most often occurs in the leg. Individuals that participate in activities with repetitive motions have an increased risk. Physical activities/sports include:
This is usually not dangerous and is often relieved by discontinuing the specific exercise/s or physical activity for a while. Symptoms include:
Pain during exercise.
Cramping during exercise.
Numbness
Moving the foot is difficult.
Muscle bulge can be seen.
Chiropractic Treatment
Leg pain should not be ignored for long as the problems could escalate into severe/dangerous territory. Chiropractic treatment is highly effective in the detection and treatment of leg pain. Chiropractors are experts in the neuromusculoskeletal system. Their expertise in promoting physical function applies to the whole body's systems, including the:
Muscles
Bones
Ligaments
Nerves
Tendons
They are trained to diagnose and treat developing and chronic musculoskeletal problems and know when to seek specialized medical care when necessary.
---
Body Composition
---
Can't Individuals Just Exercise More and Eat Whatever They Want?
No individuals cannot just exercise/move more and eat whatever they want if they are serious about losing excess weight. A healthy diet and exercise are essential parts of the formula for effective weight loss. One study shows that being aware of diet in quality and quantity overtakes just exercising when achieving and maintaining healthy body composition changes as a vital part of maintaining a healthy lifestyle. Evaluating the effects of diet, exercise, or a combination of both revealed that long-term success was most significant in the mix of diet and exercise. Individuals can exercise vigorously, but losing weight can be very difficult if they have unhealthy eating habits or cannot stick to a healthy diet. The individual can develop other health problems from an unhealthy diet.
The information herein is not intended to replace a one-on-one relationship with a qualified health care professional, licensed Physician and is not medical advice. We encourage you to make your own health care decisions based on your research and partnership with a qualified health care professional. Our information scope is limited to chiropractic, musculoskeletal, physical medicines, wellness, sensitive health issues, functional medicine articles, topics, and discussions. We provide and present clinical collaboration with specialists from a wide array of disciplines. Each specialist is governed by their professional scope of practice and their jurisdiction of licensure. We use functional health & wellness protocols to treat and support care for the injuries or disorders of the musculoskeletal system. Our videos, posts, topics, subjects, and insights cover clinical matters, issues, and issues that relate to and support, directly or indirectly, our clinical scope of practice.* Our office has made a reasonable attempt to provide supportive citations and has identified the relevant research study or studies supporting our posts. We provide copies of supporting research studies available to regulatory boards and the public upon request.
We understand that we cover matters that require an additional explanation of how it may assist in a particular care plan or treatment protocol; therefore, to further discuss the subject matter above, please feel free to ask Dr. Alex Jimenez or contact us at 915-850-0900.
Dr. Alex Jimenez DC, MSACP, CCST, IFMCP*, CIFM*, ATN*
email: coach@elpasofunctionalmedicine.com
Licensed in: Texas & New Mexico*
References
Braver, Richard T. "Chronic Exertional Compartment Syndrome." Clinics in podiatric medicine and surgery vol. 33,2 (2016): 219-33. doi:10.1016/j.cpm.2015.12.002
Joubert, Sonia V, and Manuel A Duarte. "Chronic Exertional Compartment Syndrome in a Healthy Young Man." Journal of chiropractic medicine vol. 15,2 (2016): 139-44. doi:10.1016/j.jcm.2016.04.007
Schmidt, Andrew H. "Acute compartment syndrome." Injury vol. 48 Suppl 1 (2017): S22-S25. doi:10.1016/j.injury.2017.04.024
Vajapey, Sravya, and Timothy L Miller. "Evaluation, diagnosis, and treatment of chronic exertional compartment syndrome: a review of current literature." The Physician and sportsmedicine vol. 45,4 (2017): 391-398. doi:10.1080/00913847.2017.1384289